Dubai Local Travel
Info Guide
Dubai Local Travel:

To move in and around Dubai, you can use the following modes of transport:
The Roads & Transport Authority Application helps you plan your travel in an efficient, comfortable and cost-effective manner.

The "Wojhati" or Journey Planner is an excellent search feature that enables you to access accurate information for travel from your source point (Starting point) to your destination point.
Once you've entered both these points, you receive all details of travel via Bus, Dubai Metro and Water Bus (Abra). You get to see:
Bus numbers with routes,
Bus stop locations on interactive maps,
Bus timetables,
Dubai Metro numbers with routes,
Dubai Metro stations on interactive maps,
Dubai Metro timetables,
Time & distance from your source point to the respective Bus stop / Metro station,
Time & distance from the respective Bus stop / Metro station to your destination.
It will also suggest the shortest, and best route to take so as to reach within the shortest possible time. On entering your source point the application pre-populates several well-known landmarks closest to your source point / destination point, so it is easy to get to it. Access the Application here.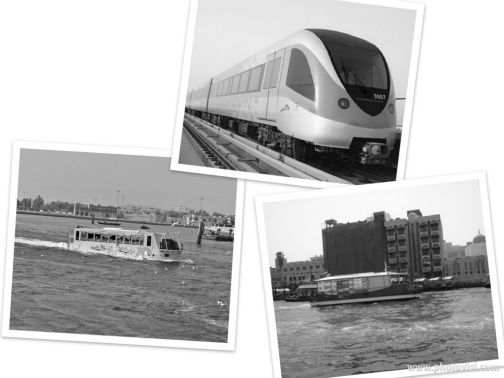 Dubai Metro / Dubai Water Bus / Dubai Taxi (Abra)
The World-class Dubai Metro is also a very good and efficient method of traveling in Dubai.

It consists of the Red Line and the Green Line that criss-cross Dubai, almost entirely; covering different routes and destinations. Metro fares are very reasonable, starting from just AED 4 per journey. There are special cabins reserved for women and children.
The fastest and fun way to cross the Dubai Creek, is the Abra, the Water bus, which connects Dubai and Bur Dubai.

The Dubai Public Bus Transport system is also state-of-the-art with well-maintained Mercedes-Benz buses plying at regular time intervals across all routes.

Why not book a Hotel in Dubai?

The search box below displays the Lowest Prices for Hotels in Dubai from 100's of hotel sites on the net...

You can phone and call a Taxi for Dubai Local Travel. There are 5 major taxi companies in Dubai. Listed below are their names, phone numbers and colour identification:

Dubai Taxi Corporation. Call 042080808. Cream coloured cars with a red roof. They have a fleet of well maintained taxi's of various sizes. A big plus is the pink roofed taxi cabs, driven by ladies, especially for ladies and families. http://dtc.dubai.ae/en/Pages/default.aspx


National Taxis. Call 04 2336661. Cream with a Blue Roof. Operated by a private company that's a franchise of the RTA. http://www.nationaltaxi.ae/


Metro Taxis. Call 04 2673222. Cream with a Red Roof. A franchise of the RTA. http://www.imgmarine.ae/metro.html


Cars Taxis. Ph. +971-4-2693344 / 2642825. Toll free 800-227789. Cream with a Blue roof. Is also a franchise of the RTA. They also operate taxis in Sharjah. http://www.etaascon.com/nascon/articledetails.asp?id=31&catid=18/


Arabia Taxis. Ph. +971-4-2855566 / 2855111. Toll free 800-272242. Cream with a Green Roof. They also operate taxis in Ajman. http://www.arabiataxi.ae/frz/bin/services.html
View some important pages on our site:
Dubai 7 Star Hotel || Dubai Hotels

Cheap Dubai Hotels || Dubai Tourism

Dubai Attractions || Things To Do In Dubai

Dubai Desert Safari || Amusement Parks in Dubai

Ski Dubai || Burj Dubai Tower

Have a query about Dubai Local Travel? Please Contact Us.


Return to Dubai Hotels


Return to Dubai Forever Home Page

Photos Courtesy: kinkisharyo; 21804407@N08; stepnout.